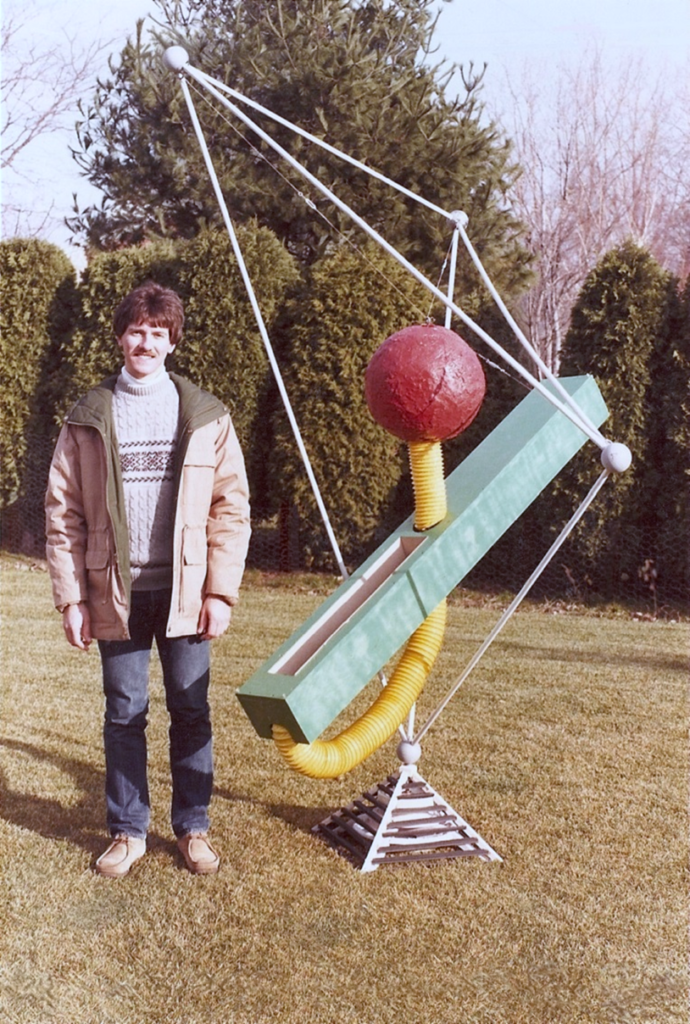 Ronald Fergle with "SOLART" (1986)
Our Story
SOLART was incorporated in 1992 by president and founder Ronald Fergle.
We work with architects, developers, building owners, and anyone interested in improving the environmental footprint of building design and construction. We believe that environmental responsibility can not only reduce the negative impacts of global climate change, but be financially beneficial and visually exciting at the same time.
This image shows "SOLART," a rotational sculpture that was also a passive solar hot-water heater. Designed for an art fair, it was meant to be both visually interesting and conceptually simple. It exhibits the basic principles of passive solar hot-water heating: 1) water is heated by the sun in a collector panel (lower part of green box), 2) the heated water rises by natural convection from the top of the collector panel and flows through a pipe (within yellow tube), 3) the heated water is stored in a heavily insulated storage tank (within red sphere), and 4) the cooler water from the bottom of the storage tank flows by natural convection down through another pipe (within yellow tube) to the bottom of the collector to start the cycle over again.
"SOLART" exhibits our core beliefs, that utilizing energy from the sun (SOL) can be accomplished in an artistic manner (ART).
Ronald Fergle, AIA, NSI, LEED AP, has been pursuing the intersection of architectural design, environmental concerns, and building technology for over 30 years. He has a Master of Science in Architecture Studies degree, with emphasis in Building Technology, from MIT / Massachusetts Institute of Technology, and a Bachelor of Environmental Design degree from Miami University.
After graduating from MIT, he worked at Skidmore, Owings & Merrill (SOM) in Chicago, IL. At SOM, he programmed the Lighting Analysis and Electrical Design modules of the IBM-SOM Architectural Engineering Series (AES) CAD program. AES was an early Building Information Modeling (BIM) integrated 3-D design tool for architects and engineers. The software code, primarily written in "C" utilizing a UNIX environment, ran on IBM RISC machines.
Mr. Fergle next worked at Arcline Associates in suburban Chicago, IL, where he designed and managed projects involving various types of retail buildings. These ranged from small to mid-sized stand-alone retail stores, to large big-box structures located in suburban power mall developments.
In 1992 he left Arcline Associates to start Solart, Inc. Over the years, SOLART has worked independently, as well as with other architects and consultants, on a wide variety of projects. These have included: designing assisted-living care facilities and multi-family housing projects with Nelson-Tremain Architects; writing software for 2M/d catalogues, ITT Conoflow value selection, and Grinnell pipe hanger sizing; working as a North American Project Manager with Jordani Associates on the General Motors Worldwide Facilities Group (GM-WFG), Computer-Aided Facilities Management (CAFM) initiative; writing Continuing Education (CE) courses about Leadership in Energy and Environmental Design (LEED) and the Architectural Registration Examination (ARE) for Kaplan / Brightwood Education; and writing additional sustainable design reference materials and on-line CE courses that have been presented by NCARB / AEC Daily and AIAU.
Mr. Fergle is also a program instructor for Marmo+Mac and Veronafiere (Verona, Italy). The "Designing with Natural Stone" and "Stone Academy" programs sponsored by Veronafiere, educate architects and interior designers about all phases of natural stone selection, specification, fabrication, installation, and maintenance. Mr. Fergle presents the sessions on sustainable design, and how natural stone is an ideal building material based on its low-carbon footprint, extended durability, positive life-cycle assessment, and numerous other advantageous environmental characteristics.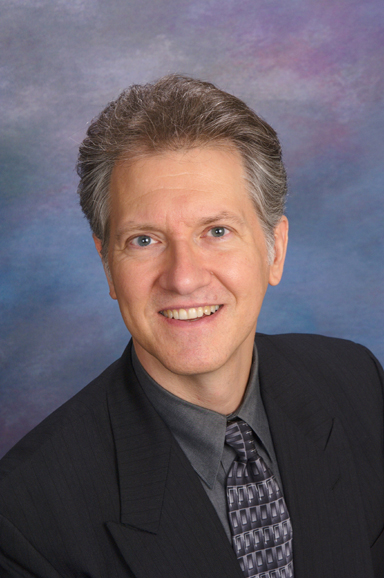 Ronald Fergle
President and Founder
Next Steps…
Contact us to learn how to make your project or building greener, and more environmentally friendly.